What would be like if everything in your home was connected to the internet? Not just your phones or laptops but your toasters, clocks, speakers, lights, security systems, doorbells, lamps, fridges, and anything that's a machine! That would mean a lot of bandwidth! But it would also mean that all those devices could communicate, coordinate, and provide the most comfortable home life one can have in the 21st century. The future is now, the future is the Internet of Things (IoT) with smart devices.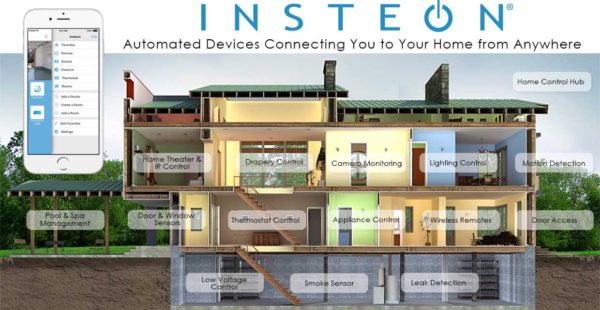 Integrating smart devices into your everyday life for a seamless experience is a very real possibility with innovations in-home technology. The ability to control everything around the house like your Air Conditioner, your lights, your windows, or your shades with just the touch of a button from your handheld device or the sound of your voice. A lot of these technologies are affordable and easy to set up, though the deeper in specifics you go, the heavier it will get on your pocket. Here are a few accessible smart home devices:
The Amazon Echo is an extension of Amazon Alexa, Amazon's voice assistant. Alexa has the ability to integrate multiple different smart home devices directly or with its 'If This Then That' functionality which gives you the ability to create functions for other devices. It might take some getting used to but you can use The Echo to control most of the smart devices in your home like a Smart TV or a sound system.
The Philips Hue Bulbs are the lights of the future with a completely wireless experience. With your smart device, you can control the intensity of the bulb, the hue as well as the color of the light! The Philips Hue Ecosystem works with just about every home assistant device to be intuitive enough to be considered a smart home device. From the Alexa to Siri! Philips also offers the Philips Hue White for a plain white bulb at a bargain!
The SkyBell Video Doorbell is a doorbell that has a camera fitted into it so you may see from inside who the person at the door is. The SkyBell HD also includes speakers and a mic so you can talk to the person out the door. The camera records in 1080p, even at night with color night vision. It functions like a game camera where it starts recording just a few seconds before the trigger event. What separates SkyBell HD from its competitors is that it comes with free cloud storage for recorded video. It's quite rare to find security device services that offer free storage.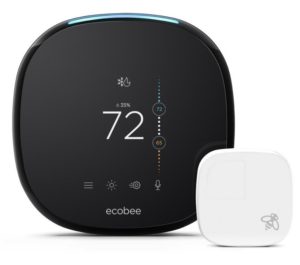 The Ecobee4 is a thermostat that has a beautiful 'infinite screen' design with a seamless screen hid away in on the black bezel-less s screen. The display is minimalistic the functionality is extraordinary. It can control the temperature of a different room remotely. You'll be noticing a pattern of devices integrating Amazon Alexa and other home assistants, the Ecobee4 uses Alexa as well to control its functions.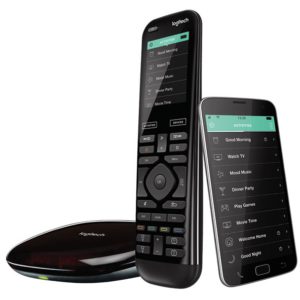 The Logitech Harmony Elite is remote control built like a traditional TV remote control but it includes a touchscreen display. The Logitech Harmony Elite connects to any device that accommodates Bluetooth, Wi-Fi, Zigbee, Z-Wave, or infrared. You won't ever have to look for the TV remote or the AC remote, they'll be all in one!
The iHome iPS6X lets you control gadgets and devices from your smartphone through its intuitive app. The iHome iP6X is a third-party device that integrates devices like none other, it works to integrate Amazon Alexa, Google Assistant voice control, the Apple HomeKit, Nezt Samsung SmartThings, and Wink. It can schedule tasks, set reminders, and controls easily from the palm of your hand.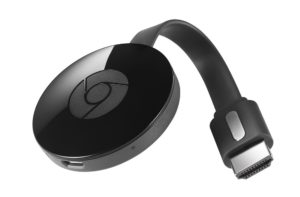 It's almost impossible not to have the chrome cast in your home nowadays. It makes casting media from one device to the other the simplest it has ever been. It simply plugs into an HDMI and you can cast media from your phone, tablet, or PC to the TV screen for a larger display. The Google Home also integrates Chromecast for a seamless experience.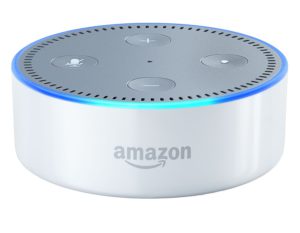 Get all the functionalities of the Amazon Echo for a much more affordable price! The Echo Dot is the least expensive way to get voice control in your house. The Echo Dot control all devices connected with it with the sound of your voice, it can turn on your TV, and you're A/C, and you can order a pizza with it too!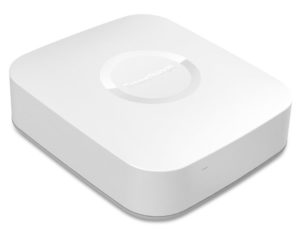 The Samsung SmartThings Hub is an affordable smart device scheduler. It connects smart devices that normally wouldn't work together. You can plan tasks for the smart devices as well! Group smart devices together and have them perform at the same time such as gathering blinds, dimming lights, and turning the TV off in the evening.
Did you ever think that a robot would clean your swimming pool for you? If you did then your dreams have become a reality. The Polaris 9650iQ does an extremely well job cleaning your swimming pool thoroughly. It connects Wi-Fi to your smart device for multiple programmable features that will aid in the cleaning process. It's a little on the pricier side but imagine all the time you wanted a cool dip in your pool but couldn't because it was dirty and you couldn't be bothered to clean it yourself. A lot of people's pools go useless simply because the cost of cleaning adds up too much. Investing in the Polaris 9650iQ will save you a lot of money and will keep your pool available for use anytime you want!
The future is now with all these amazing smart devices. There are several options to choose from, see what devices you own and what devices you can integrate them with. But also be aware that you don't need to buy everything that is on the market. Please take a minute to think about what you need.
For example, it is not necessary to change your phone every year. While having smart devices is great, we also need to think about what we are going to do with those old-fashioned devices we won't use anymore. If you are interested I have an article on electronic waste: Local E-Waste Recycling: Are we Paying Attention?
Thank you for taking some time to read this article. Feel free to leave your thoughts and comments in the section below.
Sources:
https://www.pcmag.com/article2/0,2817,2410889,00.asp
https://www.the-ambient.com/guides/smart-home-ecosystems-152