Drinking Green, that's what I thought about when I came across recycled glassware. You probably thought I was going to talk about wine or about a green smoothie. Right? Even though the topic is related to these beverages, we will discuss alternative products to use when we are drinking our fluids (alcoholic and non-alcoholic). Still Interested? First, let's discuss why using recycled products is so important.
Why Recycled Glassware?
Now, this is an interesting question. Since we all have to drink fluids every day we are using pitchers and glasses constantly. Now we have the opportunity to use recycled material and contribute to helping the environment. It is a very smart way to help reduce waste. Remember every small positive action may contribute to the solution. Many small actions combined have a bigger impact. We don't realize it but a clean land or clean coast can be the home for existing species to grow in as part of nature.
The Impact of Recycling
We don't seem to realize it yet but recycling has become an important method to help reduce waste. In this article, we refer to recycling soda bottles but there are other man-made materials that are recycled. Along with the recycling method to reduce the number of empty soda bottles, companies have chosen to replace glass soda bottles with recyclable plastic bottles and recyclable metal cans.
In many countries, where that have many landfills, are trying to incorporate recycling waste into their new normal but it is not an easy process if you don't have the right people supporting the initiatives. This is why it is so important for us to follow and support our eco-friendly friends with their initiative morally and financially (where possible). Like I said before, every small effort counts and may have a big impact on someone else.
Using recycled products would be a great start but there is so much that can be done. Let's work together for a healthier way of living.
About Maya Collection
Let me introduce you to the Maya Collection. The Maya Collection is a set of 100% recycled glassware, an excellent option to reduce waste and improve our way of living while we enjoy our favorite cold drink. Each glass is hand-blown using old techniques that have been passed down through generations so everyone receives a one-of-a-kind set with a unique touch of the artisan's hand.
By now you are probably wondering what is being recycled? Soda Bottles are used to create this glassware. By doing so, tons of waste is being removed from landfills. The more is recycled, the more waste is removed, cleaning up space that can be used for planting trees, or any eco-friendly project.
The Maya Collection includes a Picher, a 4 set Pint Glasses, a Tumbler set of 4, 2 Wine Glasses, 2 Martini Glasses, 2 Margarita Glasses, 2 Sniffer Glasses, and 2 Shot Glasses. You also have champagne Glasses and Let's start with the pitcher. If you have children at home, this will be ideal to prepare some fresh juice for them during the day and some punch or cocktails for yourself to drink when they are asleep. In the collection, you will also find glasses to serve the juice you prepared along with special-occasion glasses to drink a martini, a margarita, or some wine.
.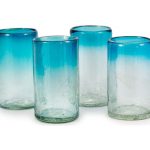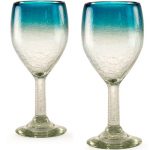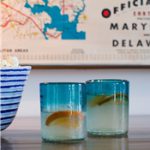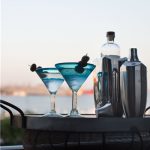 The Great
– The glasses are of good quality.
– Each set is unique.
– By using them you are contributing to reducing waste on the planet. Not only households can make a difference but also offices, restaurants, and bars.
– Further, the glasses are only available in aquamarine, amber, red and clear glass so far.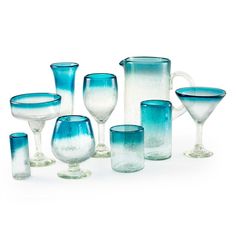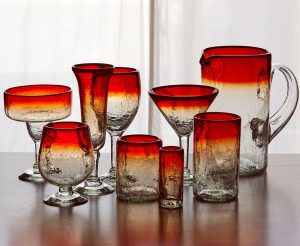 The Less Fortunate
– Be careful not to use them for hot beverages, as it will affect the longevity of the glass.
– Each set is sold separately but if desired you can buy more of one set or the complete collection if desired. However, if you want to buy everything, you still have to buy them separately. I would have preferred to have the option to buy the complete collection at once but at the time I ordered that option was not available. Fortunately, I got a discount on the shipping.
– The aquamarine design is beautiful and depending on the artist the mixed colors show a beautiful contrast in the light. I bought the aquamarine Wine set for a friend that really liked them. She was a little disappointed that they didn't look exactly like mine but they still looked incredible. What many people don't understand is that all sets are made by hand and every time the color blending technique results in different styles of shapes so each set is unique in its own way.
– You will not always find the specific set you want available at the stores.
Final Thoughts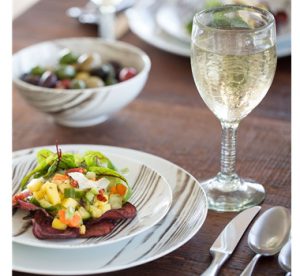 These are great unique products to have but being aware of the meaning of using such products is even more important. If not, the use of any other recycled products contributes to reducing waste.
I hope this was an interesting read for you. Do you use recycled glass? Would you consider changing your traditional glasses for recycled glass? Feel free to leave your comments, I would love to hear from you.
If you're interested you can the Maya product at www.vivaterra.com
Sources of images:
https://www.theultimategreenstore.com/search.aspx?searchterm=maya