We have come to know of recycling through the years as a means to reuse products that we do not have the need for anyway. Upcycling, however, is a newer term that most people might be unfamiliar with. But to clear the air of any uncertainty let us first thoroughly define recycling and upcycling.
Recycling
Conventionally recycling is referred to the process of using waste materials and converting them to use materials and objects. The key point here is that waste material is used to create new items for use. A great example of this is the use of old waste paper and creating new paper from it in an office environment. Major fast-food companies like McDonald's use recycled paper in place of normal paper to conserve the use of resources.
An item that is 'recycle-able' is deemed to be fit for use when it has reached the end of its life. Materials like paper, rubber tires, cardboard, most electronic items, some plastics, and a few others are items that can be recycled for future use.
Waste is collected and then certain types of materials are separated. Metals are separated by using magnets, for example. Different tactics are employed to separate different kinds of materials like glass, plastics, or paper. In some sporting facilities, human workers will go through the waste and sort material types by hand.
These will then be used to make new products.
Examples of Recycling
There are many types of recycling. Here are some of the most common ones.
Natural Products
Waste generated from the kitchen and waste from natural products can be used to make compost. Compost is generally referred to as a mixture that is used to add nutrients to the soil by use of bio-degradable materials. Items like fruit and vegetable waste, waste food, eggshells, bread, etc. can be used to make a mixture that can be fed into the soil.
Metal
Metals are probably the most recyclable materials on Earth. In fact, car manufacturers will go out of their way to purchase scrap metal to melt down and use in manufacturing new cars and other items. Most planes as well are made from lightweight aluminum that once could have been a can.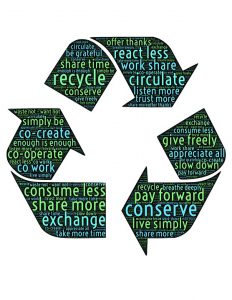 What is Upcycling?
Upscaling is the creative use of old and waste products to make them into new and better quality materials. It differentiates from recycling (or downcycling) in how the material is handled. In recycling the new material formed is of a lower quality or lower standard. Realistically no one really wants to use lower-quality products.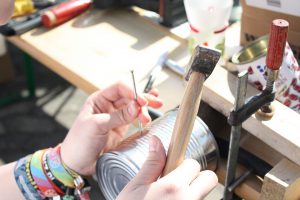 Old products are given new value and the end result is a better product that people would want to use. The actual end goal of the product in upcycling is a better quality product from the materials it was used to make.
Art products are a good example of upcycling. Old items such as used candles and wires will be used to make toys. Similarly, the process of refurbishing old electronic items is also considered upcycling since an old quality product is being transformed into a better one, and theoretically, the time and resources saved in making a new product would have been saved.
Examples of Upcycling
The thing about upcycling is that it isn't separated into specific categories like recycling is. Literally, any old item can be repurposed into a new item. Old watch parts are used to make jewelry, a stack of books can be hollowed out to make a lamp and an old fat monitor can be converted into a little house for a cat.
The concept of industrial upcycling is relatively new and has not been yet vastly implemented but examples exist. Recently, a company by the name of TerraCycle announced that they would be upcycling old diapers and would be using them to make new park benches.
Delta Airlines was also in the news as it announced that it would upcycle old uniforms into new bags and passport covers. L'Oréal also announced a partnership with Loop Industries to upcycle old PET plastic into Loop PET for endless use.
Similarly, man products around the common home environment can be reworked into something more useful. Old car tires are usually worked into bedside tables or coffee tables. The ingenuity ends only where your imagination does.
Recycling vs Upcycling
Recycling vs Upcycling depends on a lot of factors such as availability of waste, sorting, and processing of waste, etc. What it ultimately comes down to is, what is helping to save the planet? Well, it can be argued a combination of both works but in an environment where you are doing one of the two, you usually cannot do the other.
The argument for upcycling is that everyday objects that otherwise might have been wasted around us are given new life and used for many years to come. But the argument can be also made that the time between them ending up in the dump has only been extended. For example, how many times could you rework those old tires into something new? Or even slightly purposeful? There is no set way to mass-upcycle as it were with recycling since the waste can literally be anything.
Final Thoughts
Recycling is using raw materials to create new albeit lower-quality materials. There is an easy and fixed way to collect and process waste. We know what we are getting with the end result.
With upcycling, it is a hit or a miss. And the life of the product is not increased indefinitely either. If you at all care about style either you would not want an upcycled product in your house unless it has been made to perfection.
Thus in the Recycling vs Upcycling fight, recycling is the clear winner. Do you agree?
Feel free to share your thoughts and comments in the section below.