Earth is under threat. A high increase in deforestation, swamps drained, waters polluted, soil degraded, and air contaminated, and indigenous populations, the first earth defenders, are being driven away from their original homes. The majority of those in charge that are able to do something is silent as all this goes on; they are either the perpetrators or are not concerned at all as they do not understand the magnitude of the destruction and the effects it will have on their lives.
In the midst of all this, there are people who are concerned and aware of the danger posed by the destruction of our planet. They have chosen to speak out and use all they have to ensure that this is stopped, and the restoration of the earth is achieved. These are the earth defenders, individuals, and organizations that cut across different regions of our planet. They range from indigenous populations, environmental rights advocates, earth justice defenders, earth rights defenders, and more.
Their voices have been very crucial: they have stopped governments from instituting policies and measures that interfere with natural forests' capacity to regenerate, and businesses whose activities, promote deforestation, endanger the lives of humans, other animals and living things. They are playing a great role in ensuring that our earth is preserved. They have put their lives in danger, had their families and loved one maimed and even killed. They have been relentless in this fight, using all their resources to see that our earth is preserved.
Who are Earth Defenders?
Earth Defenders are facing grave risks as they seek to protect their communities. These are people who raise their voices, and speak up on atrocities that are meted out by the government, corporations, and other powerful groups or individuals who engage in activities that threaten life on Earth. They are community leaders; advocates and rights activists who seek to protect the well-being and rights of their people.
Most of the Earth Defenders are indigenous people: the First Nation of Australia, the Native Americans in the United States of America, the Brazil Amazon indigenous people, Wet'suwet'en Canada, but also the supporters and protestors who push governments and corporations to stop activities that jeopardize the right of others to enjoy a clean and safe environment. They have put their lives on the line, and risked their families and communities, all in the name of ensuring that their environmental rights and the welfare of their people are respected. They have done so much for us; some have paid with their lives. Their allies also face backlash from supporting them. For years it went under the radar creating the impression that all is well. Reality is different. We see a clear case with Chevron Ecuador. If we plan to save the earth, there is a need to protect these voices. We need to support, stand with and protect these voices.
How do WE stand with the Earth Defenders?
It is now more dangerous than ever to take a position against big corporate and authoritarian regimes that steal resources that destroy the environment. Nearly five people are murdered every week for the stand they took in the protection of their natural resources from mining companies, loggers, and agribusiness corporations. Entire populations' lives have been threatened for standing in the way of businesses and autocratic regimes' actions to destroy the environment. Diseases have been introduced in indigenous people's habitats. Powerful people have taken advantage of pandemics and other calamities to get rid of Earth Defenders and their actions; infected groups are being left with no help.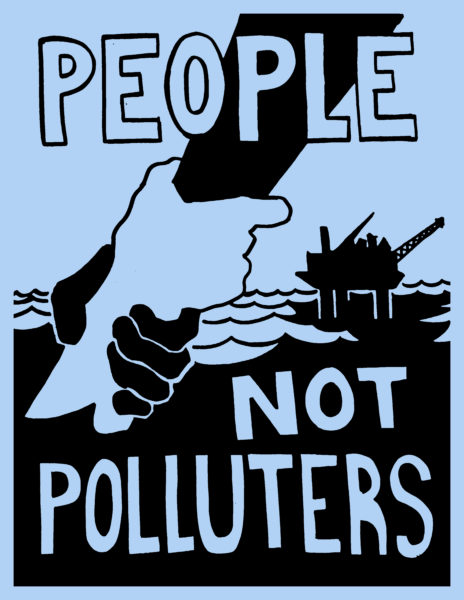 Stop The Money Pipeline Art Josh MacPhee, Justseeds Artists.
This graphic is about lending and hand and reaching out to one another
especially those most impacted by pollution and climate change. It is
about bailing out one another and not bail out the fossil fuel industry that
is destroying the planet.
Even the organizations that help the earth defenders are at times overwhelming, the current COVID-19 has not spared them either. They have been forced to practice social distancing to protect these communities, while they cannot continue with their activism due to movement and gathering limitations instituted all over the world. These are just a few problems that earth defenders face as they seek to protect the environment. We owe them a lot, for some of the things we enjoy are a result of their sacrifices. The Brazil Amazon Indigenous have continued to protect the most important ecosystem on earth, while organizations such as Amazon Watch have been at the forefront of creating awareness and providing funds to protect these earth defenders.
Our voices need to be heard, pushing governments and authorities to act and protect the earth's defenders from powerful forces. It has been noted that earth defenders are at risk because those who perpetrate heinous acts think they can get away with it; they believe that the rest of the world will not take any action. We need to prove them wrong, deny them space, get them out of their holes, urgently show global solidarity, and stand with the earth justice defenders, the people who risk their all to see that the planet and its people are protected.
What Can WE Do?
We can team up with organizations that protect the earth defenders, raise our voices and support them morally and financially, and join them in forcing the authoritarian regimes and unscrupulous businesses to respect the rights of indigenous people. Together we can protect the earth's defenders. The little we can do as a form of gratitude is support their efforts and play our parts, and the world will be a better place to live in, for current and future generations.
There are many cases of murdered earth defenders that have gone unnoticed. There are cases where those who dare to support these earth defenders are discouraged to continue their support and there are cases were they face immediate retaliation from the wealthy.
A prominent ongoing case is that of Steven Donziger who played a key role in winning the landmark $9.5 billion judgment in Ecuador against Chevron, which operated in the country as Texaco from 1964 to 1992.
As part of Chevron's retaliation, a U.S. trial judge has now confiscated Donziger's passport, ordered him to turn over his email passwords, cell phone, and computer for review by Chevron. Donziger has been convicted of no crime, yet remains under indefinite house arrest now three times longer in time than the longest sentence ever imposed on a lawyer convicted of the same charge. While under house arrest, Donziger has been unable to pursue justice for the Ecuadorians poisoned by Chevron.
These calculated attacks from Chevron are not just targeting Donziger, they also target all human rights defenders who speak up and fight for justice. There are many more cases like this that in many cases go unnoticed.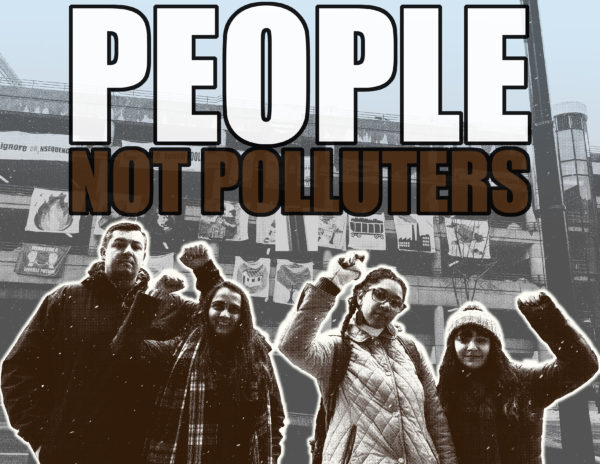 Stop The Money Pipeline Art, Paul Kjelland, Justseeds Artists graphic was based on a photograph by Joe Brusky. The young people in the photo provided this statement: This banner drop, outside of WE Energies' Public Service Building in Milwaukee, states the need for a renewable energy future for Milwaukee. The People's Climate Coalition, a culmination of various activist groups and intergenerational leaders, demands that WE Energies move to 100% renewable energy by 2025. MKE volunteer artists & activists, with the support of the group Art, Build Workers, created the banners during two full-day art builds
Let's help those who genuinely help us live in a less toxic world. Here are some ways to do that:
-Stand with Steven! Please add your name to this petition: https://www.makechevroncleanup.com/ and Follow their FB Page Free Steven Donziger
-Stand with and support The Lawyers for the Environment. Visit their website https://earthjustice.org
-Stand with and support Earth Rights Defenders. Visit their website https://earthrightsdefenders.org
-Support Resourcing Earth Defenders. Visit their website https://climasolutions.org/resource/resourcing-earth-defenders
-Support The Amazon Defenders Fund. Visit their website https://amazonwatch.org/get-involved/amazon-defenders-fund
-Support Power to the Protectors Fund. Visit their website https://amazonwatch.org/get-involved/power-to-the-protectors-fund
-Become an Amazon Sustainer. Visit their website https://amazonwatch.org/donate
Do you know of any other organizations that stand with Earth Defenders? Feel free to share that information in the comment section.
.
Sources
Earth Defenders increasingly Killed, March 20, 2020. https://www.hrfn.org/community-voices/earth-defenders-increasingly-killed-funders-can-step
Environmental Activists Defenders Annual Report 2017. https://www.globalwitness.org/en/campaigns/environmental-activists/defenders-annual-report
Stand Up for Women Defenders of the Amazon https://amazonwatch.org/take-action/stand-up-for-women-defenders-of-the-amazon
American Indians against Abuse https://www.niwrc.org/content/american-indians-against-abuse

Issues and Problems facing Native Americans today, September 7, 2019. https://www.powwows.com/issues-and-problems-facing-native-americans-today
Stop The Money Pipeline Free Art: http://bit.ly/peoplenotpolluters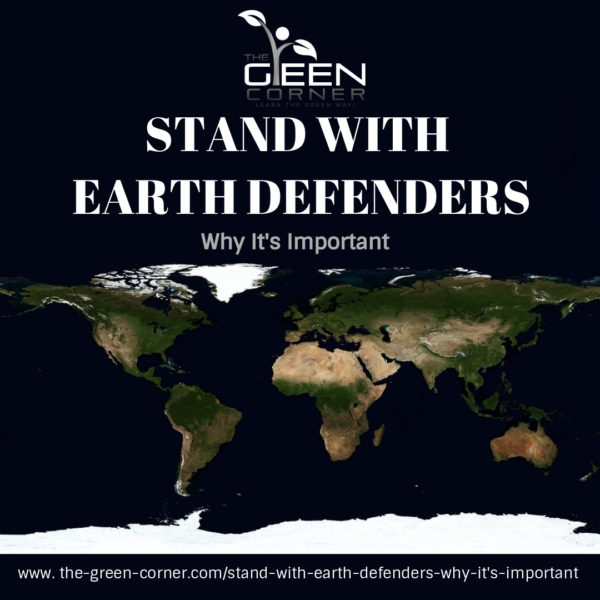 A big THANK YOU to OG, Jenny M, Dina, and Roxy who help me finalize this article.